FAQ
July 26, 2018
Difference between WordPress.com and WordPress.org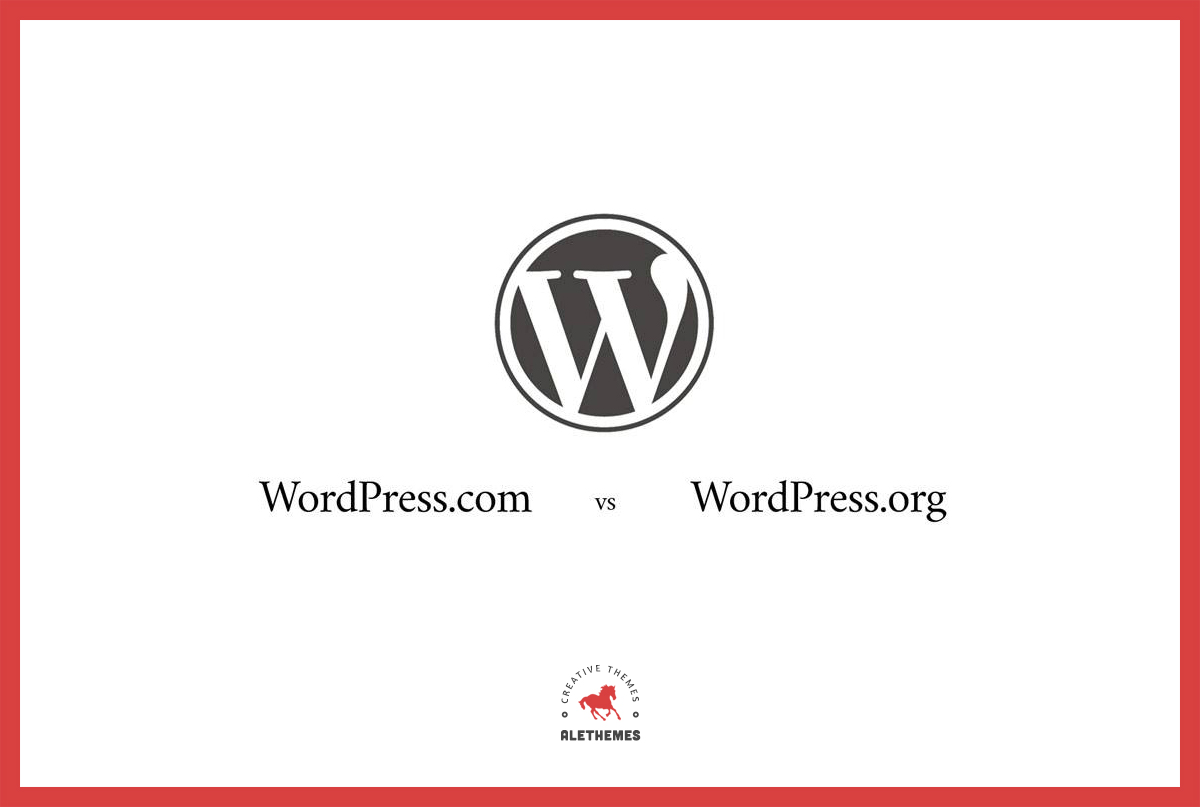 WordPress.com and WordPress.org can be a confusing topic for those just starting with WordPress. The following article explains what WordPress is and the difference between the two, pros and cons and why we use WordPress.org. Alethemes can only be used on WordPress.org as it is a premium theme.
WordPress is a publishing platform or content management system (CMS) that makes it easy for anyone to publish a site online. WordPress.com is the fully-hosted version, with WordPress.org being the self-hosted version, available for free at WordPress.org.
What is WordPress.com
WordPress.com is the fully hosted version of WordPress. Hosting, security and backups are all included. WordPress.com is great for starting out as it's free, it has built in spam protection and automatic updates.
All you need to do is sign up, choose your blog name, select your theme and get started. It's all there ready, under one roof and it's all managed for you.
Pros
Free with first 3gb of storage, $99 a year for a premium plan.
No maintenance – WordPress is managed for you.
Possibility to gain extra traffic (although may not be quality views).
Regular Back Ups.
Cons
Limited themes – you're limited to the themes in the WordPress.com repository, you cannot upload your own custom themes.
Limited Storage – with free account you get 3gb, then you must pay for more storage, which is similar pricing to regular hosting.
No additional plugins allowed – this can limit your options when deciding to build your site.
Limited Control of Content – WordPress.com adds ads to your site, and you need to pay if you want them removed.
No FTP access to files – you can't directly download your files via FTP.
Unable to track Analytics – you're unable to use advertising options such as Google AdSense or track stats with Google Analytics.
WordPress.com is a great platform allowing you the freedom to just add your content. However it lacks the freedom of a WordPress.org account, and it's better for those who aren't using it for business.
What is WordPress.org
WordPress.org is an open source project, by the makers of WordPress.org. That means you can download it for free and install it on any WordPress compatible hosting service.

Pros
Greater control over your site and content – there are no ads on your site, and you have full control over what's displayed.
Premium themes – you can install premium themes such as Flothemes on your site.
Plugins – you can add plugins to your site from third party providers, allowing you to add more functionality to your site.
Analytics – you can benefit from tracking your sites analytics, as well as using paid advertising opportunities to drive traffic.
Cons
Requires paid hosting, however with options being between $5-10 a month for regular hosting, it's a similar price to premium WordPress.com pricing with added flexibility.
Required maintenance – you're required to maintain WordPress (unless you're with a hosting provider that does this for you such as SiteGround).
Security is your responsibility – adding a security plugin and a spam blocker will help with this. See the list of plugins we recommend.
Dealing with site issues – if your site has issues its your responsibility to resolve.
Required to make your own site back ups.
Don't let the cons scare you, most of these items are relatively simple to do and there is plenty of support available online. If you're serious about your business, then WordPress.org is the platform for you, as it allows greater flexibility and control over your site.
Why is Alethemes on WordPress.org
At Alethemes we believe in you having the ultimate control over your website, everything from your branding, domain name, to your voice. WordPress.com doesn't quite give you that freedom. WordPress.org allows you to add your own plugins, use premium themes (such as Alethemes) and allows you total control and ownership over your content.
Both interfaces are similar in terms of use, so ease of use is not a consideration when deciding. Whilst it may be a little more expensive to run a WordPress.org site, if you're serious about your business and want that extra control, then WordPress.org is going to give you that. With only 3gb of space with the free version of WordPress.com it's likely that as a photographer or creative, you're going to run out of space fast.